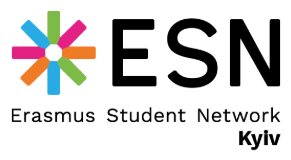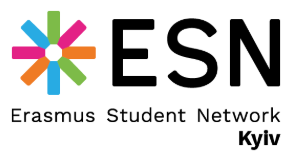 Erasmus Student Network Kyiv is a local section of the Erasmus Student Network located in Kyiv, Ukraine. The mission of the organization is to represent international students, thus providing them with opportunities for better cultural understanding and self-development. The credo of the organization is "Students help students".
ESN Kyiv became an official member of the Erasmus Student Network on the 2nd of June, 2019. Initially, ESN Kyiv assisted foreign students at the Taras Shevchenko National University of Kyiv. However, given that one of the organization's key priorities is to expand European networking among Ukrainian universities, it already cooperates with the National University of Life and Environmental Sciences of Ukraine, Igor Sikorsky Kyiv Polytechnic Institute and maintains ties with other universities of Kyiv.
Most of the members are students and recent graduates – active and inspired volunteers. Many members, regularly participated in various international projects, are members of other youth organizations or even run their own initiatives. ESN Kyiv has a clear structure that helps to cover all aspects of international students' stay in the city. Therefore, the section consists of four departments: communication, education, design and partnership.
ESN Kyiv strives to make the stay of foreign students in Kyiv the most amazing time in their lives. The four departments work together to provide international students with cultural activities, to help with the learning process where needed, or simply to be there.
There are no special requirements for participation in ESN Kyiv events: the events are absolutely open to every student (exchange, international or local). You can view a list of upcoming events in the social networks of organization. ESN Kyiv is always happy to welcome new members to its section. It doesn't matter if you are a foreigner living in Kyiv or a Ukrainian. If you are active and energetic, be sure to learn more and become a member of ESN Kyiv!